I've seen many articles around the Austen-verse with writers opining that Mr. Knightley is a better romantic hero than Mr. Darcy. I won't bother to touch on that. 🙂 However, I think the thing that makes many readers uncomfortable about Mr. Knightley is the following line:
"The good was all to myself, by making you an object of the tenderest affection to me. I could not think about you so much without doating on you, faults and all; and by dint of fancying so many errors, have been in love with you ever since you were thirteen at least."
This must be broken down into two sections. The first, which seems most egregious to a modern reader, is his loving Emma while she was only thirteen. The second, that he shaped her into a woman to marry.
Let's establish a bit of history for Emma and Knightley. Emma is twenty-one and is the younger of two heiresses of a very comfortable estate. Her father lives, is quite old, and seems generally anxious about everything. We are also told she is far cleverer than her elder sister and was from an early age. In fact, she's so clever she doesn't really have a mental companion for her save Mr. Knightley. He's a neighbor, and his younger brother married Emma's sister some years ago. However, he's 37 or 38, so there's quite the age gap.
So, if he loved Emma at 13, then he would have been 27 or 28. I mean, that's a huge red flag, even if we want to make allowances for things like Lydia marrying at 16 to a man who is 26. Developmentally, there would be quite a difference between 13 and 16, even in an era that treated teenagers as adults. Even though women could be treated as adults around age 16 (this seems to differ for men), very few of their class married at that age. The average age across the nation for women to marry was 26, and I've seen estimates at around 22 or 23 for the gentry. So, although 16-year-olds could join in Society things they were not, generally, accepting suitors and marrying. Emma is "underage" no matter how you slice it.
However, did he really romantically love her at age 13? First, we are told that Knightley  "was not only a very old and intimate friend of the family, but particularly connected with it, as the elder brother of Isabella's husband."
Emma was 12 years old when Isabella married. There's little reason to believe that Knightley was often visiting the house when Emma was so young and his brother and new sister-in-law lived in London. It appears for some time he only visited when the John Knightleys were in the area. Even if Mr. Woodhouse invited him to dine, Emma would not have been at the table at such a young age. We are told of this:
The list she drew up when only fourteen—I remember thinking it did her judgment so much credit, that I preserved it some time; and I dare say she may have made out a very good list now.
This statement is before Frank Churchill has arrived, which is worth noting for once Knightley proposes, we are told the following:
On his side, there had been a long-standing jealousy, old as the arrival, or even the expectation, of Frank Churchill.—He had been in love with Emma, and jealous of Frank Churchill, from about the same period, one sentiment having probably enlightened him as to the other. It was his jealousy of Frank Churchill that had taken him from the country.—The Box Hill party had decided him on going away. He would save himself from witnessing again such permitted, encouraged attentions.—He had gone to learn to be indifferent.
Perhaps he did not realize he preserved Emma's early list out of love, but I think it far more likely that he was merely impressed with a child making such a list. She might have even done it purposefully to please him, as a child often does. She was his sister-in-law for two years by this point. There's no reason to consider that he desired her as a wife at such an age, or even considered that she could one day become one for him when we also take into account that he did not recognize it as love until long after Frank was in the picture.
I think Knightley is acquitted of anything akin to craving Emma as a companion at such a young age. He loved her as a sister, and that is all the notice he took of her. However, what about his statement that he made her into someone that he could love?
If a man is of sound means at 37 or 38, especially in such an era, one might wonder if he will ever marry. Emma makes sound arguments:
"But Mr. Knightley does not want to marry. I am sure he has not the least idea of it. Do not put it into his head. Why should he marry?—He is as happy as possible by himself; with his farm, and his sheep, and his library, and all the parish to manage; and he is extremely fond of his brother's children. He has no occasion to marry, either to fill up his time or his heart."

"My dear Emma, as long as he thinks so, it is so; but if he really loves Jane Fairfax—"
Knightley has no impetus to marry for companionship or lack of an heir. He would only marry for love. The fact that he's reached such an age and has not fallen in love makes it pretty clear that most people are not up to his requirements. Does it follow, then, that he would have to shape a person into his designs? Would he take nearly ten years to do it? Would that even be love?
An additional question arises from this notion. Does Emma yield to Knightley's molding? There would be too many quotes to use as they consistently argue throughout the book, but Knightley complains many times that Emma listens to no one, including him. Within her thoughts, we are sure she will never capitulate to anything simply because he says so–lest we forget the dread affair about Harriet and Mr. Martin.
However, when Knightley scolds her after she makes fun of Miss Bates, Emma feels the reproach.
It was badly done, indeed! You, whom she had known from an infant, whom she had seen grow up from a period when her notice was an honour, to have you now, in thoughtless spirits, and the pride of the moment, laugh at her, humble her—and before her niece, too—and before others, many of whom (certainly some,) would be entirely guided by your treatment of her.—This is not pleasant to you, Emma—and it is very far from pleasant to me; but I must, I will,—I will tell you truths while I can; satisfied with proving myself your friend by very faithful counsel, and trusting that you will some time or other do me greater justice than you can do now."
Emma is described as feeling thus:
He had misinterpreted the feelings which had kept her face averted, and her tongue motionless. They were combined only of anger against herself, mortification, and deep concern.

She was vexed beyond what could have been expressed—almost beyond what she could conceal. Never had she felt so agitated, mortified, grieved, at any circumstance in her life. She was most forcibly struck. The truth of this representation there was no denying. She felt it at her heart. How could she have been so brutal, so cruel to Miss Bates! How could she have exposed herself to such ill opinion in any one she valued! And how suffer him to leave her without saying one word of gratitude, of concurrence, of common kindness!
It is not enough, however, for Emma to regret the justness of Knightley's remarks or hate that she has disappointed him. The real turning point in Emma's story comes when she enters self-reproach:
She had been often remiss, her conscience told her so; remiss, perhaps, more in thought than fact; scornful, ungracious. But it should be so no more. In the warmth of true contrition, she would call upon her the very next morning, and it should be the beginning, on her side, of a regular, equal, kindly intercourse.
Knightley tries, again and again, to make Emma understand her ways. He doesn't like her matchmaking. He doesn't like Frank Churchill. He doesn't like Emma making fun of Jane Fairfax. He doesn't like her friendship with Harriet Smith. He doesn't like approve of her idleness. However, he always sees the good and the potential in Emma. Emma never backs down and agrees just to please him–or anyone else. She thinks well of Knightley and doesn't like it when they've argued, and it appears he is disappointed in her, but it's only when she feels the disappointment herself that we see her reverse her opinion. The fact that she's not obstinate in resisting what needs to change simply because Knightley has said it should be a mark in her favor.
I would say Knightley has no more influence over Emma than most friends have over one another. This should be a familiar theme for Austen deals with friendly persuasion in each novel.
Instead of viewing Emma and Knightley's relationship beginning at the point of romance, let us consider it from the progression of brother and sister-in-law, to friends, to lovers.
From Volume III Chapter III, after Knightley is well acquainted with his growing feelings for Emma:
"Whom are you going to dance with?" asked Mr. Knightley.

She hesitated a moment, and then replied, "With you, if you will ask me."

"Will you?" said he, offering his hand.

"Indeed I will. You have shewn that you can dance, and you know we are not really so much brother and sister as to make it at all improper."

"Brother and sister! no, indeed."
So we see they have left brother and sister long behind. They are friends. Knightley even says this when Mrs. Weston is pestering him about Emma's friendship with Harriet (and I believe trying to make him own his feelings):
"I do not know what I could imagine, but I confess that I have seldom seen a face or figure more pleasing to me than hers. But I am a partial old friend."
By the end of the novel, however, they are no longer satisfied to simply be friends. A person may have a hundred friends, and they may come and go through life. Emma and Knightley are the best of friends, but that is such an inadequate word for their feelings.
But if you have any wish to speak openly to me as a friend, or to ask my opinion of any thing that you may have in contemplation—as a friend, indeed, you may command me.—I will hear whatever you like. I will tell you exactly what I think."

"As a friend!"—repeated Mr. Knightley.—"Emma, that I fear is a word—No, I have no wish—Stay, yes, why should I hesitate?—
Instead of leaving it at friendship, Knightley expresses more:
"My dearest Emma," said he, "for dearest you will always be, whatever the event of this hour's conversation, my dearest, most beloved Emma—"
Knightley and Emma have ascended from kinship to friendship to potential lovers.
"I cannot make speeches, Emma:" he soon resumed; and in a tone of such sincere, decided, intelligible tenderness as was tolerably convincing.—"If I loved you less, I might be able to talk about it more. But you know what I am.—You hear nothing but truth from me.—I have blamed you, and lectured you, and you have borne it as no other woman in England would have borne it.—Bear with the truths I would tell you now, dearest Emma, as well as you have borne with them. The manner, perhaps, may have as little to recommend them. God knows, I have been a very indifferent lover.—But you understand me.—Yes, you see, you understand my feelings—and will return them if you can. At present, I ask only to hear, once to hear your voice."
Indeed, Emma returns his affections.
She spoke then, on being so entreated.—What did she say?—Just what she ought, of course. A lady always does.—She said enough to shew there need not be despair—and to invite him to say more himself.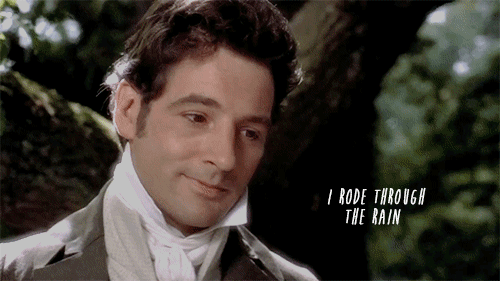 And so we have one of the earliest examples in literature of a romance blossoming from friendship to beloved.
This one half-hour had given to each the same precious certainty of being beloved, had cleared from each the same degree of ignorance, jealousy, or distrust.
Now, the next time you see a Knightley vs. Darcy debate, you might find the fight closer than ever as, I believe, Knightley is free from any immoral insinuation. Jane Austen would not be the last to write such a concept. Romance books are rife with the trope of from friends to lovers or the adopted sibling to lovers etc. I consider my own love story closer to friends to lovers, so it has a soft spot in my heart.