I have previously defended why Elinor is best suited to marry Edward, and not Colonel Brandon. In this post, I want to explore the nature of Edward's feelings for Elinor as they began while he was engaged to another woman.
At the end of the book, we are finally given an accounting for how he accidentally strung Elinor along and made all of their acquaintance believe he was in love with her and if not capable of marrying her, at least in danger of it.
Elinor scolded him, harshly as ladies always scold the imprudence which compliments themselves, for having spent so much time with them at Norland, when he must have felt his own inconstancy.

"Your behaviour was certainly very wrong," said she, "because, to say nothing of my own conviction, our relations were all led away by it to fancy and expect what, as you were then situated, could never be."

He could only plead an ignorance of his own heart, and a mistaken confidence in the force of his engagement.

"I was simple enough to think, that because my faith was plighted to another, there could be no danger in my being with you; and that the consciousness of my engagement was to keep my heart as safe and sacred as my honour. I felt that I admired you, but I told myself it was only friendship; and till I began to make comparisons between yourself and Lucy, I did not know how far I was got. After that, I suppose, I was wrong in remaining so much in Sussex; and the arguments with which I reconciled myself to the expediency of it were no better than these:—The danger is my own; I am doing no injury to anybody but myself."
How could Edward possibly think spending time with a young lady would not engage her heart? Well, in his defense, Elinor is hardly the young, romantic thing that Marianne is. Additionally, Willoughby represents a foil to Edward. For Willoughby did intend to make Marianne attached with no intention of returning the feelings.
I must confess, my vanity only was elevated by it. Careless of her happiness, thinking only of my own amusement, giving way to feelings which I had always been too much in the habit of indulging, I endeavoured, by every means in my power, to make myself pleasing to her, without any design of returning her affection."
We see from Edward's quote that he did not set out to manipulate Elinor's feelings and provide amusement for himself—although he had long been miserable with his engagement to Lucy.
He did attach Elinor but had no idea of his really doing so. How could that be? Alas, Miss Austen's Edward Ferrars is not the hunky hero we see in Dan Stevens or Hugh Grant.
Edward Ferrars was not recommended to their good opinion by any peculiar graces of person or address. He was not handsome, and his manners required intimacy to make them pleasing. He was too diffident to do justice to himself; but when his natural shyness was overcome, his behaviour gave every indication of an open, affectionate heart. His understanding was good, and his education had given it solid improvement. But he was neither fitted by abilities nor disposition to answer the wishes of his mother and sister, who longed to see him distinguished—as—they hardly knew what. They wanted him to make a fine figure in the world in some manner or other.
Here, we see further reasoning for his thinking little of himself. He knows his deficiencies and his family prefers his younger brother. He knows it about himself as well:
"Shyness is only the effect of a sense of inferiority in some way or other. If I could persuade myself that my manners were perfectly easy and graceful, I should not be shy."
Indeed, he is hardly what young men were expected to be in the era:
Edward is very amiable, and I love him tenderly. But yet—he is not the kind of young man—there is a something wanting—his figure is not striking; it has none of that grace which I should expect in the man who could seriously attach my sister. His eyes want all that spirit, that fire, which at once announce virtue and intelligence. And besides all this, I am afraid, mamma, he has no real taste.
When Marianne further abuses Edward to Elinor, she defends him thusly:
He distrusts his own judgment in such matters so much, that he is always unwilling to give his opinion on any picture;
Elinor has spent enough time to know that Edward's reticence is due to his humility and even knowledge of his awkwardness. The subtext of this is that he must prefer other things but find people disagree with him and mock his preferences. If Edward were to tell Marianne he preferred a sermon to a sonnet, she would never forgive him. However, if he could rationalize it as a way that did justice to her own views, she might tolerate it. If he could say that he prefers to be out of doors to witness all of its grandeurs rather than read about it, she would likely praise him. However, Edward is simply too awkward to get that far.
Elinor continues to praise him, however.
"Of his sense and his goodness," continued Elinor, "no one can, I think, be in doubt, who has seen him often enough to engage him in unreserved conversation. The excellence of his understanding and his principles can be concealed only by that shyness which too often keeps him silent. You know enough of him to do justice to his solid worth. But of his minuter propensities, as you call them, you have, from peculiar circumstances, been kept more ignorant than myself. He and I have been at times thrown a good deal together, while you have been wholly engrossed on the most affectionate principle by my mother. I have seen a great deal of him, have studied his sentiments and heard his opinion on subjects of literature and taste; and, upon the whole, I venture to pronounce that his mind is well-informed, his enjoyment of books exceedingly great, his imagination lively, his observation just and correct, and his taste delicate and pure. His abilities in every respect improve as much upon acquaintance as his manners and person. At first sight, his address is certainly not striking; and his person can hardly be called handsome, till the expression of his eyes, which are uncommonly good, and the general sweetness of his countenance, is perceived. At present, I know him so well, that I think him really handsome; or, at least, almost so.
We see little of Elinor and Edward's interactions at Norland. Instead, the chapters are full of complications from both Mrs. Dashwoods seeing an interest between the two. It's written so vaguely that half way through the book, Elinor is able to question if Edward had ever really loved her. The reader is left in the dark just as much as she is for we never saw it either. The above quote, however, proves Elinor has "love goggles" on. Not only is he more attractive to her now but she has turned all his flaws into strengths.
Elinor is not so blind as to admire what is not there. Everyone can see the potential in Edward. Praise from Elinor means something. It is not the blind flattery of Lucy Steele. Perhaps this is one of the things on which Edward compared the two.
Elinor continues to be the more sensible between the two ladies. She does not see enough from Edward to be entirely certain of his loving her and is cognizant of the fact that even if he does, it may come to nothing.
I am by no means assured of his regard for me. There are moments when the extent of it seems doubtful; and till his sentiments are fully known, you cannot wonder at my wishing to avoid any encouragement of my own partiality, by believing or calling it more than it is. In my heart I feel little—scarcely any doubt of his preference. But there are other points to be considered besides his inclination. He is very far from being independent. What his mother really is we cannot know; but, from Fanny's occasional mention of her conduct and opinions, we have never been disposed to think her amiable; and I am very much mistaken if Edward is not himself aware that there would be many difficulties in his way, if he were to wish to marry a woman who had not either a great fortune or high rank."
While Elinor reproaches Edward for his behavior at Norland, she had always felt there was something missing in his treatment of her:
There was, at times, a want of spirits about him which, if it did not denote indifference, spoke a something almost as unpromising. A doubt of her regard, supposing him to feel it, need not give him more than inquietude. It would not be likely to produce that dejection of mind which frequently attended him. A more reasonable cause might be found in the dependent situation which forbad the indulgence of his affection. She knew that his mother neither behaved to him so as to make his home comfortable at present, nor to give him any assurance that he might form a home for himself, without strictly attending to her views for his aggrandisement. With such a knowledge as this, it was impossible for Elinor to feel easy on the subject. She was far from depending on that result of his preference of her, which her mother and sister still considered as certain. Nay, the longer they were together the more doubtful seemed the nature of his regard; and sometimes, for a few painful minutes, she believed it to be no more than friendship.
When he visits the Dashwoods at Barton, there is also no sign of him intending to attach Elinor.
He was not in spirits, however; he praised their house, admired its prospect, was attentive and kind; but still he was not in spirits. The whole family perceived it;
Edward made no answer. His gravity and thoughtfulness returned on him in their fullest extent—and he sat for some time silent and dull.
Elinor saw, with great uneasiness, the low spirits of her friend. His visit afforded her but a very partial satisfaction, while his own enjoyment in it appeared so imperfect. It was evident that he was unhappy; she wished it were equally evident that he still distinguished her by the same affection which once she had felt no doubt of inspiring; but hitherto the continuance of his preference seemed very uncertain; and the reservedness of his manner towards her contradicted one moment what a more animated look had intimated the preceding one.
After Marianne comments on his ring, which we later learn is made of Lucy's hair, he is describe as this:
Edward's embarrassment lasted some time, and it ended in an absence of mind still more settled. He was particularly grave the whole morning.
Indeed, he even successfully relies on his honor when at Barton:
Edward remained a week at the cottage; he was earnestly pressed by Mrs. Dashwood to stay longer; but, as if he were bent only on self-mortification, he seemed resolved to be gone when his enjoyment among his friends was at the height. His spirits, during the last two or three days, though still very unequal, were greatly improved—he grew more and more partial to the house and environs—never spoke of going away without a sigh—declared his time to be wholly disengaged—even doubted to what place he should go when he left them—but still, go he must.
Were Elinor's expectations raised from this visit? She could see how something afflicted him and he did not treat her as he had at Norland.
Disappointed, however, and vexed as she was, and sometimes displeased with his uncertain behaviour to herself, she was very well disposed on the whole to regard his actions with all the candid allowances and generous qualifications, which had been rather more painfully extorted from her, for Willoughby's service, by her mother. His want of spirits, of openness, and of consistency, were most usually attributed to his want of independence, and his better knowledge of Mrs. Ferrars's disposition and designs. The shortness of his visit, the steadiness of his purpose in leaving them, originated in the same fettered inclination, the same inevitable necessity of temporising with his mother. The old, well-established grievance of duty against will, parent against child, was the cause of all.
But from such vain wishes she was forced to turn for comfort to the renewal of her confidence in Edward's affection, to the remembrance of every mark of regard in look or word which fell from him while at Barton, and above all, to that flattering proof of it which he constantly wore round his finger.
Ah, so Elinor's reasons to believe Edward continued to love her were mostly based on looks and rare words and the blasted ring. Of course, once we meet Lucy and the truth comes out, things are clearer. Or are they?
"To be sure," continued Lucy, after a few minutes' silence on both sides, "his mother must provide for him sometime or other; but poor Edward is so cast down about it! Did you not think him dreadful low-spirited when he was at Barton? He was so miserable when he left us at Longstaple, to go to you, that I was afraid you would think him quite ill."

"Did not you think him sadly out of spirits?" repeated Lucy.

"We did, indeed, particularly so when he first arrived."
Elinor had thought Edward unusually out of spirits but blamed his mother, and possibly continued affection toward Elinor. Lucy takes the blame for herself. We learn from Edward, finally, it was because he had realized how much he loved Elinor and could never have her.
When Elinor learns about the engagement from Lucy, what are her feelings?
Her resentment of such behaviour, her indignation at having been its dupe, for a short time made her feel only for herself; but other ideas, other considerations soon arose. Had Edward been intentionally deceiving her? Had he feigned a regard for her which he did not feel? Was his engagement to Lucy an engagement of the heart? No; whatever it might once have been, she could not believe it such at present. His affection was all her own. She could not be deceived in that. Her mother, sisters, Fanny, all had been conscious of his regard for her at Norland; it was not an illusion of her own vanity. He certainly loved her. What a softener of the heart was this persuasion! How much could it not tempt her to forgive! He had been blameable, highly blameable, in remaining at Norland after he first felt her influence over him to be more than it ought to be. In that, he could not be defended; but if he had injured her, how much more had he injured himself; if her case were pitiable, his was hopeless. His imprudence had made her miserable for a while; but it seemed to have deprived himself of all chance of ever being otherwise. She might in time regain tranquillity; but he, what had he to look forward to? Could he ever be tolerably happy with Lucy Steele; could he, were his affection for herself out of the question, with his integrity, his delicacy, and well-informed mind, be satisfied with a wife like her—illiterate, artful, and selfish?
As these considerations occurred to her in painful succession, she wept for him more than for herself. Supported by the conviction of having done nothing to merit her present unhappiness, and consoled by the belief that Edward had done nothing to forfeit her esteem, she thought she could even now, under the first smart of the heavy blow, command herself enough to guard every suspicion of the truth from her mother and sisters.
It is not that Elinor does not feel the pain of knowing she now has no hope of ever marrying Edward, even if it seemed nearly hopeless before, it is that she does not let herself wallow. She is greater command of her emotions and has enough sense to see that she has not been an intentional victim.
What amazes me the most about Elinor's philosophy, and it is reinforced with her feelings about Marianne and Willoughby's attachment, is that she fully understands that the heart can't be controlled. It wants what it wants. For Edward, it wanted Elinor even though he was bound to Lucy. He always tried to act honorably but sank deeper and deeper into true melancholy. Can you imagine the way such feelings would weigh on him? Without any sort of employment or any friends, he must have felt entirely consumed with his problems. Instead of a quick burn from the fire of passion, he was slowly being choked as a ring of fire circled around him.
Regarding his reasons for not breaking the engagement, he was misled about Lucy's real nature.
he had always believed her to be a well-disposed, good-hearted girl, and thoroughly attached to himself. Nothing but such a persuasion could have prevented his putting an end to an engagement, which, long before the discovery of it laid him open to his mother's anger, had been a continual source of disquiet and regret to him.

"I thought it my duty," said he, "independent of my feelings, to give her the option of continuing the engagement or not, when I was renounced by my mother, and stood to all appearance without a friend in the world to assist me."
When at last he is free of Lucy, he goes straight to Barton. He can barely contain his desire to ask for Elinor's hand, even as he wondered if she would accept him. He was so eager to end the misery he had been living in for months. Like a man who takes a deep breath of air after being rescued from a fire, Edward needed to lay is heart at Elinor's feet.
In the end, Austen rewards Edward's loyal heart and unbroken honor. Why should we not allow his happiness?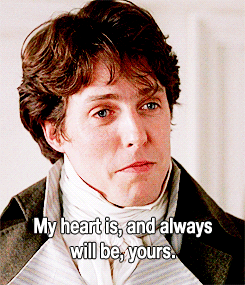 His situation indeed was more than commonly joyful. He had more than the ordinary triumph of accepted love to swell his heart, and raise his spirits. He was released, without any reproach to himself, from an entanglement which had long formed his misery, from a woman whom he had long ceased to love, and elevated at once to that security with another, which he must have thought of almost with despair, as soon as he had learned to consider it with desire. He was brought, not from doubt or suspense, but from misery to happiness; and the change was openly spoken in such a genuine, flowing, grateful cheerfulness, as his friends had never witnessed in him before.
"I am grown neither humble nor penitent by what has passed. I am grown very happy…"